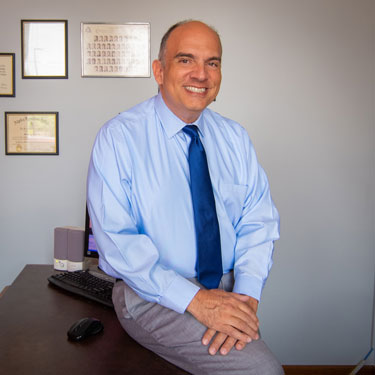 Dentistry has been everything for me. It has allowed me to help people in so many ways, and I have made lasting friendships through my practice and the services we provide. Whenever a patient expresses their satisfaction with treatment, and I see a happy and bright smile, I know I have made a difference in that person's life.
It is a pleasure to meet and spend time with people of all ages and from many walks of life. I enjoy getting to know each person, learning about their lives as well as their dental needs and concerns. As I assist them to achieve their treatment goals, and then maintain the results, we develop a relationship based on mutual respect and communication.
Those connections mean the world to me, as does the opportunity to provide local families with high-quality, personal dental care!
~ Dr. George P. Economy
Education and Experience
Dr. George Economy was raised in Florence and, but for his years away at college and dental school, has spent his life in the community. He was drawn to dentistry at a young age and that career choice has never wavered. After practicing for over 35 years, he still looks forward to his days in the office, and the people he will spend time with.
Dr. Economy attended Clemson University, where he obtained his Bachelor of Science in Microbiology. His Doctorate of Dental Medicine (DMD) was awarded by the Medical University of South Carolina. After finishing dental school, he returned to Florence and opened his private practice in 1984.
Over the years, his practice has grown through referrals from current patients and their families. He and his team are known for providing a traditional, personal touch when it comes to dentistry: a one-to-one relationship that is professional, kind, and empathetic.
Continuing Education and Professional Affiliations
Staying current with techniques and materials in the ever-changing dental field is critical to providing high-quality patient care.
Likewise, educating patients on home care for oral health has become paramount as research continues to link oral health to overall physical health. Knowing certain health conditions, including diabetes and heart disease, are linked to poor oral hygiene, makes it essential to teach patients the importance of maintaining optimal dental health.
Dr. Economy keeps abreast of the latest dental studies and literature, along with participating in continuing education (CE) courses, in order to provide patients with advanced care and guidance.
He maintains active membership in the:
American Dental Association
Academy of General Dentistry
Florence County Dental Society
Thomas P. Hinman Dental Society
Gordon J. Christensen International Study Club
Through these professional organizations Dr. Economy learns from leading practitioners and researchers, as well as his peers.
Beyond the Practice
Dr. Economy and his wife, Athena – who is the practice administrator – are pleased to have raised their two children in Florence. Their daughter, Phyllis, works in education and lives in John's Island, SC, with her husband John; their son, Paul, currently attends Clemson University. While their human children are grown, the couple enjoys sharing their home with their Golden Retriever, Reagan.
If he's not at the office, Dr. Economy can often be found outside, walking and swimming in the warmer weather, and planning fall weekends around college football. He also likes cooking and spends a lot time in the kitchen; in fact, he often runs into his patients while hunting for ingredients at local stores!
Faith and family have always been priorities in Dr. Economy's life. His active participation as a Choir Director in his church has been spiritually rewarding for him: it goes hand-in-hand with family life.